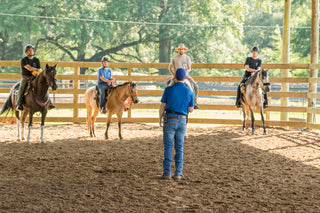 HORSEMANSHIP CLINICS
Bring any age, any breed, or size of horse and I'll work them plus teach you what to do when you get home
WHAT TO EXPECT
Do you have a particular problem you're trying to solve with your horse but with no luck?

Or, maybe you want to create a stronger bond with your horse and you need some one-on-one guidance to show you how to do it?

At my Gascon Horsemanship clinics, you will …

➡️Identify the root of the problem(s) you're experiencing

➡️Discover how to speak the language of the horse so you can solve the problem

➡️Learn a simple way to communicate with your horse so he or she knows what you're asking them to do (and will actually do it)
WHAT HAPPENS AT A GASCON HORSEMANSHIP CLINIC?
At a Gascon Horsemanship clinic, you'll see me work up to 10 different horses, one at a time. The age, breed, discipline, etc. will vary depending on what horses are brought in by participants. I'll explain different problems, solutions, and challenges as I work with each horse.
If you bring your horse to the clinic as a participant, I'll work with you and your horse individually on the specific challenges you're encountering and can keep it as basic or advanced as you wish.
If you're auditing, you'll watch from the stands/seats and I'll share on the microphone what we're doing so you can learn along with the participants. The whole clinic is an open Q & A for all auditors and participants so please ask any questions that you may have.
I'm known for simplifying often hard-to-grasp concepts so whether you're a participant or an auditor, I'll make sure you know what's going on with each horse and are able to take what you're learning at the clinic and apply it with your horse at home.
WHAT'S A TYPICAL CLINIC LIKE?
I'll work each horse individually, up to 10 horses per day. The first day I'll take the horse through the groundwork until the horse is ready to get under saddle, solving issues and problems in every step. The second day is for the participant to do the groundwork with their horse and ride him to be sure they know what to work on once they get home.
During sessions, the auditors and other riders will watch and learn from each other.
Day 1
During the first day, Michael will work your horse through all of his tests and pinpoint your challenges. Depending on where your horse lands on the tests during the clinic, you will most likely ride your horse towards the end of the session.
Day 2
The second day you will do most of the groundwork and riding yourself. This allows you to know how to keep working when you get home.
CAN'T ATTEND BOTH DAYS? YOU'RE STILL WELCOME!
While having the second day of the clinic allows me to make even more progress with your horse towards your goals, you're welcome to just attend Day 1, if needed. I'll help you and your horse, just as explained for Day 1. If you aren't attending Day 2, I'll do my best to make sure you get to work hands-on with your horse quicker so that you're prepared and confident to continue working your horse once you're home after the clinic.
No matter where you and your horse are on the journey of riding and horsemanship, you are welcome at my clinics.
As I like to say …
THERE'S NO PROBLEM TOO BIG OR TOO SMALL.
GASCON HORSEMANSHIP CAN FIX THEM ALL!
"I have both audited and participated in a Gascon Horsemanship clinics. I swear I learn something new every time i go. Participating is a lot more fun than auditing but either way you leave with a wealth of information. I also enjoy Michael's style of teaching. He uses every day comparisons to help you understand the lesson or the reason for his actions. He also is very entertaining by adding in just the right amount of humor and always has that "never give up" attitude."
"I audited at the New Jersey clinic in September. Even though I wasn't able to bring a horse, I learned more by actually watching Michael work the horses in person. I was able to see what he was doing more clearly and it was easier to understand how much pressure he was using. I learned a lot, even though most of the material he covered was already in the program. I look forward to taking a horse next year! There is always more to learn."
"I went as an observer to a 2 day clinic and he rode and fixed every problem on all different kinds of horses. He even started an 8 year old alpha mare with a "how dare you think you will tell me what to do" attitude...In a big arena...without running her...40 minutes later he rode a calm mare in a walk, a trot, and loped circles on a loose rein. Do yourself a favor go see his clinics!"
"I attended a clinic last year & speak from personal one on one experience with Michael. He is an excellent trainer of horses & people. So patient & kind. I, as most horse people do, try to make things more complicated with horses than they need to be. He takes the time & simplifies the process. He worked with my horse, gave me his opinion, then worked with me with my horse. I proudly wear my "MG" hat to support the MG team. Thank you for all you do! Keep up the awesome work!"
"I always learn something new from Michael. His techniques and way of teaching humans to understand the horse are unbeatable!"
"I took part in a clinic with Michael last year. I learned so much both on the ground and ridden. I loved the insights Michael showed us and great to get a different perspective too. Highly recommend to anyone wanting to learn more and improve their equine skills across the board."
"The clinic was extremely educational. First Michael explains the number one priority....YOUR SAFETY....how and where to stand when working with any horse. Michael teaches the importance of gaining the horses respect and how to achieve it. There is so much tried and true education in a single clinic that I decided to join TEAM MG....THE HORSE GURU. I have since been able to work with my horse feeling much more relaxed and confident knowing that I am doing it right. It's amazing how quickly my horse has responded to the simple instructionsMichael teaches. If you pay attention to his details you will learn that....PRACTICE MAKES PERFECT.....so if you're having ANY problems with your horse go to the experts. MG HORSEMANSHIP."
"I have been to many clinics over the course of my 50 years of riding horses. I learned more with Michael in 1 session than all those clinics combined. He is clear, simple to understand, and passionate about his work. I was so impressed with his method I bought a Paso from him! I look forward to many years of friendship and many more clinics. Thanks Michael for helping me to communicate better with my horses, and for introducing me to the Paso breed."
INTERESTED IN HOSTING A PRIVATE CLINIC?
I'd love to bring my Gascon Horsemanship methods to your farm!
Hosting a Gascon Horsemanship clinic is very straightforward. All you need is a location, an open date, and some horses to work. We are happy to travel anywhere in the world, so let's make some horsemanship magic in your neck of the woods!
Clinic Host Requirements:
Fenced-in area with good footing. A round pen is a big plus, but not a requirement.
Restroom for all attendees.
Area for auditors to sit; this can be either bleachers or chairs (if public clinic).
Plan B in case of bad weather. (If you do not have a covered arena or round pen you may check the area and see if there is a covered arena nearby that you can rent or borrow if needed.)
Lunch for all attendees.
How It Works:
You will be responsible for marketing your hosted clinic among friends and horse people around you so you can fill up the spots at the clinic as well as collecting the money for your clinic. If this is for a public clinic, Gascon Horsemanship will provide you with a marketing flyer for your event.
Of course, for any public clinics, I'll list your clinic on my website and The Horse Guru Facebook page as well.
In addition to the items listed above, you'll be responsible for travel and accommodations from Gascon Horsemanship as well as a $4,997/day fee.
Host Overview:
2 Days Minimum / Clinic
$4,997 Per Day Plus Travel And Accommodation From Gascon Horsemanship
10 Participants / Horses Maximum Per Day (Private Clinics Can Be For 1 To 10 Participants / Horses)
Unlimited Auditors
Deposit Of $4,997 (50%) Due To Reserve A Date / Balance Due Upon Arrival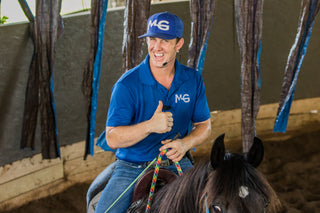 SEE YOU AT A CLINIC NEAR YOU!