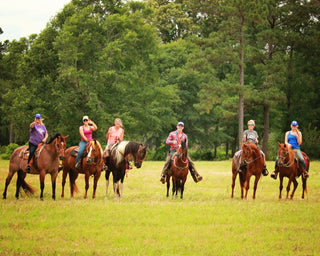 horse retreats
Enjoy a fun-filled ALL-INCLUSIVE horse vacation that will take your horsemanship skills to the next level.
ALL EXPERIENCE LEVELS WELCOME
Whether you're a first-time horse owner or an advanced horse trainer, you'll feel right at home at one of our all-inclusive horse retreats. You can ride one of our amazing Paso Finos, Quarter Horses, or bring your own horse!
From general horsemanship and trail riding to retreats focused on confidence, colt starting, or advanced riding, you'll have the opportunity to relax as much as you want and to learn as much as you want.
Possible horse retreat topics and education opportunities may include, but are not limited to:
Groundwork & Horsemanship
Sessions
Obstacles
Horse Soccer
Trick Training
Jousting
Trail Rides
Trick Riding/Roman Riding
Liberty
Reining
Roping
Horse Tag
And So Much More!
What Are The Different Retreat Types?
➡️Confidence Retreats
Walk / Trot / Optional Cantering In Games / Recovering Confidence
➡️Intermediate Retreats
Walk / Trot / Some Cantering
➡️Advanced Boot Camp Retreats
Walk / Trot / Canter / More Advanced Work* (*Must have attended a past retreat or been through our Horse Help Course program)
➡️Gaited Retreats
Additional Classes Focusing On Gait Work / Correction / Refinement
➡️1st-Time Horse Owner Retreat
Handling / Grooming / Nutrition / Riding Safely
➡️Cattle Retreat
Sorting / Cutting / Roping / All Things Cattle!
➡️Competitive Rider Retreat
Fast-Paced And Extremely Competitive Games (*Must have attended a past retreat and be comfortable cantering)
WHAT'S INCLUDED IN A RETREAT?
Enjoy our picturesque ranch nestled in the gently rolling hills of beautiful Southern Mississippi. You can ride our world-famous Paso Finos or Quarter horses, or bring your own horse to enjoy and learn on.
5 Days And 6 Nights Of Lodging
Amazing Home-Cooked Meals Each Day
Stay In Our Peaceful Cabins, Cowboy Quarters, Or Beautiful Western-Style Hotel
Entertainment And Fun (Everyone Knows We Can Throw A Party!)
Hookups For RVs, Campers, And LQ Trailers
Horsemanship Education With Michael Gascon (The Horse Guru)
Stabling And Stall Care Of Any Horse You Bring
Education On Safety And How To Read Horses
"The retreat not only met but exceeded all my expectations. Michael, family and staff were so friendly and accommodating. Watching Michael quickly advanced my horsemanship and confidence. We were able to apply what we learned with fun activities such as trail rides, obstacle course and, my favorite, horse soccer!

The food was outstanding and there was plenty of it. Michael, family and staff you all should be very proud of the work you are doing and the positive impact you are making in the lives of people and horses. I had a blast! Thank you."
"It's hard to be brief when they're so many wonderful things to say about the entire week. The food, the accommodations, the staff and the exposure to different riding experiences was something I've never known on any trip, anywhere.

I'm especially glad I was able to bring my own horses for this trip. There's so much more I could say but I will stop for now. Thank you for everything. I have the utmost respect for this trainer and his background. Good honest people."
"Awesome Retreat!!! Beyond what I expected!!!

Michael gave me the confidence with my horse to try things I never would have tried.

Horse Soccer!! It was so much fun. The staff is wonderful. The food was delicious. I'm planning a trip to go back and bring friends!!"
"In all my adult life I've wanted to learn to ride without popping up and down in my saddle. I finally settled for posting (not very Western or comfortable).

In TWO DAYS, under MG instruction, I developed an appropriate seat.

My horse and I crossed obstacles, swam in a pond and overcame a spook with a move which would've previously left me on the ground. My horses improved, and I feel I deserve to ride them."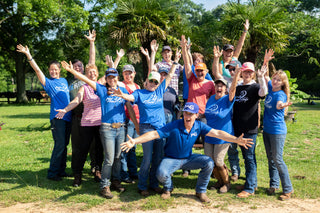 ARE YOU READY FOR YOUR FUN-FILLED HORSE VACATION?