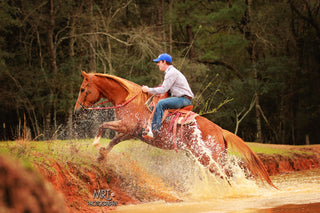 horse training
Bring your horse for training by the Gascon Horsemanship team
IS YOUR HORSE A GOOD FIT FOR OUR PROGRAM?
➡️My horse needs to be started.
➡️I'm experiencing behavioral issues with my horse.
➡️I want to enhance my horse's performance in my favorite discipline.
➡️My horse is labeled a "problem" horse and I don't know where to turn.
If you answered yes to any of these questions, then your horse is a good fit for our Gascon Horsemanship program. How do I know? Because the principles of my methods are based on the Language Of The Horse, and they speak the same language no matter the breed, age, or discipline.
That's why I'm confident my team and I can help you meet your goals for your horse!
**NOTICE** We have a limited number of monthly openings for training horses, so book early to secure your spot!
IT'S MY LIFE'S GOAL TO HELP AS MANY HORSES AND PEOPLE AS I CAN LIVE A BETTER QUALITY OF LIFE TOGETHER.
~ MICHAEL GASCON
OUR TEAM APPROACH
When you send your horse for training at Gascon Horsemanship. you're guaranteed a hard-working team around your horse. I (Michael Gascon) and our entire team at the ranch will make sure your horse gets the best possible care and treatment.
As the head trainer, I will be responsible for the training of your horse throughout the entire period he or she is here.
I'LL SET UP A PROGRAM FOR YOUR HORSE AND FOLLOW-UP REGULARLY TO MAKE SURE YOUR HORSE MAKES THE PROGRESS NEEDED TO ACHIEVE YOUR EQUINE GOALS.

As part of that program, your horse will also be ridden and worked by other members of the team such as hired trainers and/or my Gascon Horsemanship Academy students to make your horse as forgiving as possible and used to a change of hands to prevent the dreaded "trainer syndrome"...this happens in many other training programs where your horse has only been ridden by a trainer with total confidence and advanced ability level and the horse is never given an opportunity to make mistakes that can be fixed. We want your horse to know that the answer is the same whether I ask for it, one of my students ask for it, or you do. That's part of what has made our program so successful with lasting results!
Whether it's me riding your horse or one of my team members, all training follows our Gascon Horsemanship methods and is supervised by me, personally, to ensure top quality.
WORLD-CLASS HORSE CARE
Your horse will get the best possible care at Gascon Horsemanship. We have a full-time nutritionist on staff that will make sure your horse gets all the supplements and the right amount of grain. Breakfast is served at 7 a.m. and dinner at 4 p.m. daily.
Your horse will have free-choice grass hay available 24/7 and his stalls will be cleaned 6 days a week and re-bedded daily to ensure comfort.
YOUR HORSE'S SAFETY IS OUR PRIORITY, SO ALL TRAINING HORSES ENJOY REGULAR TURNOUT BY THEMSELVES WITH NO DIRECT CONTACT WITH OTHER HORSES
Turn-out paddocks are rubber fencing with an electric fence barrier and used on rotation for play, rolling, playing in the water tub, and sun time. Each horse receives proper fly spray and sunscreen (if needed) before being turned out and then receives a full bath before coming back inside.
We believe horses need a day to rest and recover just like humans, so all training horses are worked 6 days per week and Sunday is a rest day.
In addition to the full-time nutritionist, we also have a farrier, equine chiropractor, and equine dentist at our ranch regularly. If your horse would need any of these services, feel free to let us know! Our farrier charges $60 for a trim and $150 for a full set of shoes.
**NOTICE** We have a limited number of monthly openings for training horses, so book early to secure your spot!
"We had my horse Magnolia trained by Michael. He was awesome. I was in shock when we picked her up because of all the trainers we have had over the years- they never came close to meeting our horse's needs.

Michael met all expectations as our trainer. Magnolia is now safe for all ages and level of rider.

I can ride Magnolia without the anxiety or hesitation that I had before she was trained. Most of all my 77-year-old Dad can ride Magnolia safely during parades which made him and I very happy."
"You are amazingly talented and what you did for us is honestly unbelievable! Porter has no more "spook" which has given Stella the courage to ride him and start building a long-lasting bond with him.

You brought back her horse-riding sparkle! I'm so glad Meg sent her horse to you...and if we ever buy another horse, they will come to you immediately! You have such a gift and a one-of-a-kind program.

I'm glad that all those within MHJA are aware of you now. I wish you much success! Thank you from the bottom of my heart!"
"I am so enthralled with Horse Haven! They have a great training facility, they did a great job with my 10-year-old Arabian filly, Mimi.

I took Mimi out on a trail ride not long after I picked her up from MS. My husband was also riding a horse, and he was taking chemo at the time. We rode with our trail riding buddies, and he started getting ill, about 20 minutes from camp. My filly never made a bobble, with all the commotion, and anxious riders, she was a perfect lady, and allowed me to concentrate on getting my husband back to the trailhead, and I did not worry about her acting up or being nervous. She was awesome!

Thank you to Horse Haven, Michael Gascon, Christine, Jamie & Cindi Gascon! I am very glad I made the right choice to send my girl to you. I am hoping to get another horse in foal, so that I can also send that young horse to you. I am sure you will make an excellent horse out of it too. Thank you again!"
PROGRAM DETAILS
You can expect honesty about your horse's progress during training, no matter if it is good or bad news. We are not in the business of trying to keep horses in training for as long as we can or glorifying your horse's abilities into something they're not.
I'LL BE HONEST WITH YOU FROM THE START SO THAT YOU CAN ENJOY YOUR EQUINE PARTNER AS SOON AS POSSIBLE!
Current training rates are $4,997 per month, all-inclusive. A minimum of 30 days of training is required.
Payment is due at the start of every new training month. You will receive an invoice to the email stated in the horse training contract with easy payment methods, including PayPal, Credit Card, or Cash.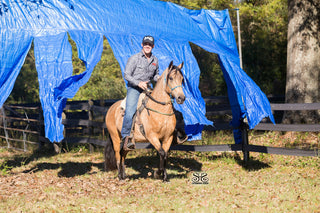 SEND YOUR HORSE FOR TRAINING