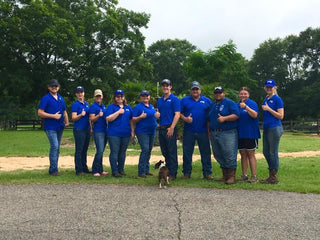 our academy
Advance your horsemanship skills and develop the equine business skills you need to build a thriving horse training business.
WORLD-CLASS EXPERIENCE WITH WORLD-CLASS INSTRUCTORS
Horse Haven Ranch will become your home away from home while you're in our Horsemanship Academy with access to over 1,000 acres to ride on.
You'll have access to more than a thousand acres to explore horseback, complete with an obstacle course, covered arena, outdoor arena, round pens, and, of course, fun activities like horse soccer.
Everything at the ranch was created with one goal: to help you learn how to communicate simply and effectively with your horse.
That's why, as an Academy student, you'll get plenty of one-on-one training from me. I'll break the language of the horse down into easy-to-understand lessons while you're here and then help you to apply what you've learned so you can train horses on your own at home.
Plus, if you choose the 6-month Professional Program, you'll learn what it takes to market and run a successful horse training business of your own.
WORK IN DIFFERENT DISCIPLINES AND WITH DIFFERENT BREEDS
While my family's initial background of five generations in horses has been with Paso Finos and gaited horses, I have intentionally branched out to work with beyond just one breed.
And I've successfully trained all kinds of horses, from ponies to draft horses and everything in between.
The big revelation I teach is that you don't have to wear your horse out to get what you want.
I believe that horses are all different but they all speak the same language.
That's why, as an Academy student, you'll have the opportunity to work with a variety of horse breeds. Plus, I bring in a number of other professionals so you get to learn directly from world champions in numerous disciplines, including:

You'll continue to expand your knowledge as we bring in trainers from all disciplines for different learning sessions throughout the Horsemanship Academy, including reiners, jumpers, liberty/trick trainers, mounted shooters, dressage, and more.
In other words, we will make sure your time in the Academy gives you plenty of opportunities to learn the language of the horse in a variety of situations and disciplines and with numerous horses.